For every new website owner, the first question arises is about cheap website hosting services and how to select the best one. There are thousands of website hosting providers available in the market who claim themselves best of all. Hence choosing from those low-cost website hosting services is not a straight forward task.
To get better performance for your website, it largely depends on the website hosting services that you've selected. Many times the website hosting provider that you selected turns out to be inadequate. It will have an impact on your website's performance like slow webpage loading, capacity issues, or even the downtime.
More and More website owners are becoming aware of the need of creating quality content. Few of these owners understand the impact of hosting service can have on their website's performance and uptime.
Follow These Tips for Choosing a Cheap Website Hosting Services
Since at least one of these below five cheap hosting services should provide exactly the solution you're seeking, it's almost impossible to make a poor choice. It would still serve you well, however, to read through the following tips for choosing a hosting service; if only to be certain that you fully understand your needs, and that those needs will be met.
What is the purpose of your website? What are your expectations for it?

It's important to be able to answer these two questions to ensure that a hosting service's offerings will adequately address your needs. Whatever those needs maybe, one or more of the hosting services listed should more than satisfy them.

What do you expect your website to look like down the road in terms of growth, and capacity and performance requirements?

Answering this question is especially important if you own or manage a business-oriented or e-commerce website. If possible, you want to choose a hosting service that enables you to scale up your hosting needs without the necessity of changing hosts or hosting options.

What does a given hosting service offer in terms of customer support?

Depending upon the size and nature of your website, your support needs can vary from important to critical. Assume you expect reliable, lightning-fast support, and take it from there.

A hosting service may promise a lot, but will it live up to its promises?

The services listed here most certainly will, but it always pays to check or customer and professional reviews. You'll want to know the pros and cons associated with any host before you sign up, along with any issues customers have encountered that may be of concern to you.

Never base a decision to sign up on pricing alone

; especially if you find the lowest price particularly appealing. You can usually expect the performance and support you receive, especially the latter, to corollate with what you're willing to pay.

Read the Terms of Service!

You may dread doing so if the Terms are lengthy, as some tend to be. Be on the lookout for anything that addresses a hosting service's refund policies. You will also want to be aware of any discussion of automatic service upgrades that could result in a price increase.

Another key element is a backup plan.

You don't want to put your website, customer data, and/or transaction data at any risk of being lost. If a hosting service's backup plan is explained in some detail, don't hesitate to look elsewhere.

If you follow the news regularly, security breaches appear to be popping up all over.

Web hosting services aren't immune to these breaches, but most do an excellent job of protecting your data. You can rest assured that those listed here do an

exceptional

job of data and information protection.
Below are the 5 cheap website hosting services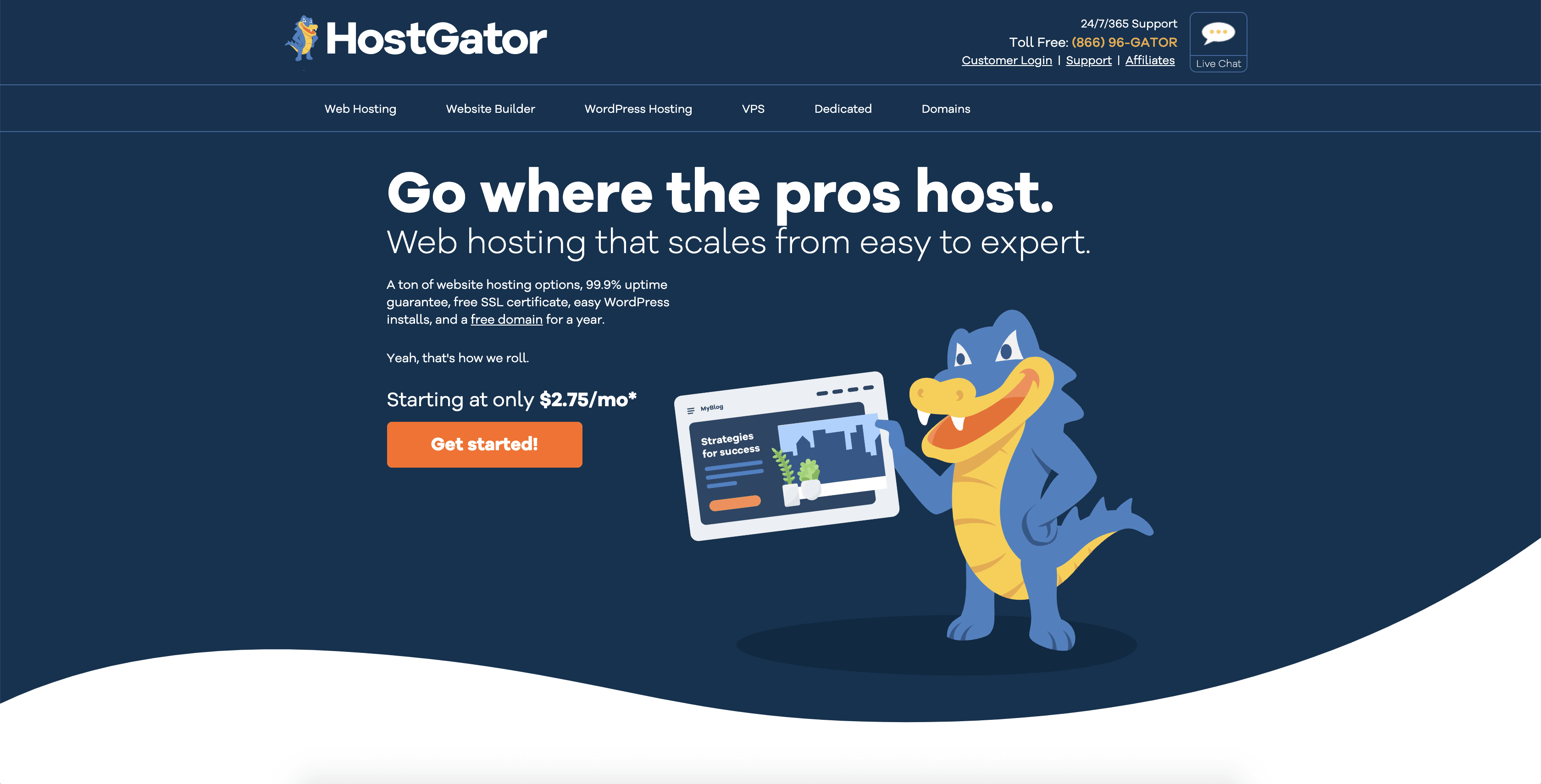 Hostgator was founded in university dorm room in year 2002. Since their inception in 2002, they have won numerous industry awards for their hosting and support related to bloggers, WordPress, Joomla, and virtually every other niche.
Whether you are a seasoned Internet pro, or just starting out with your first website, their professional staff is always available to assist you every step of the way. They provide support 24/7/365 to assist you with any aspect of your hosting experience.
HostGator provides –
Easy Control Panel
1 Click Script Install
99.9% Uptime Guarantee
45 days money back guarantee
Unmetered bandwidth
Unmetered Diskspace
Hosting plan starting at 2.75 per month USD (36 Months)
Renewal at $6.95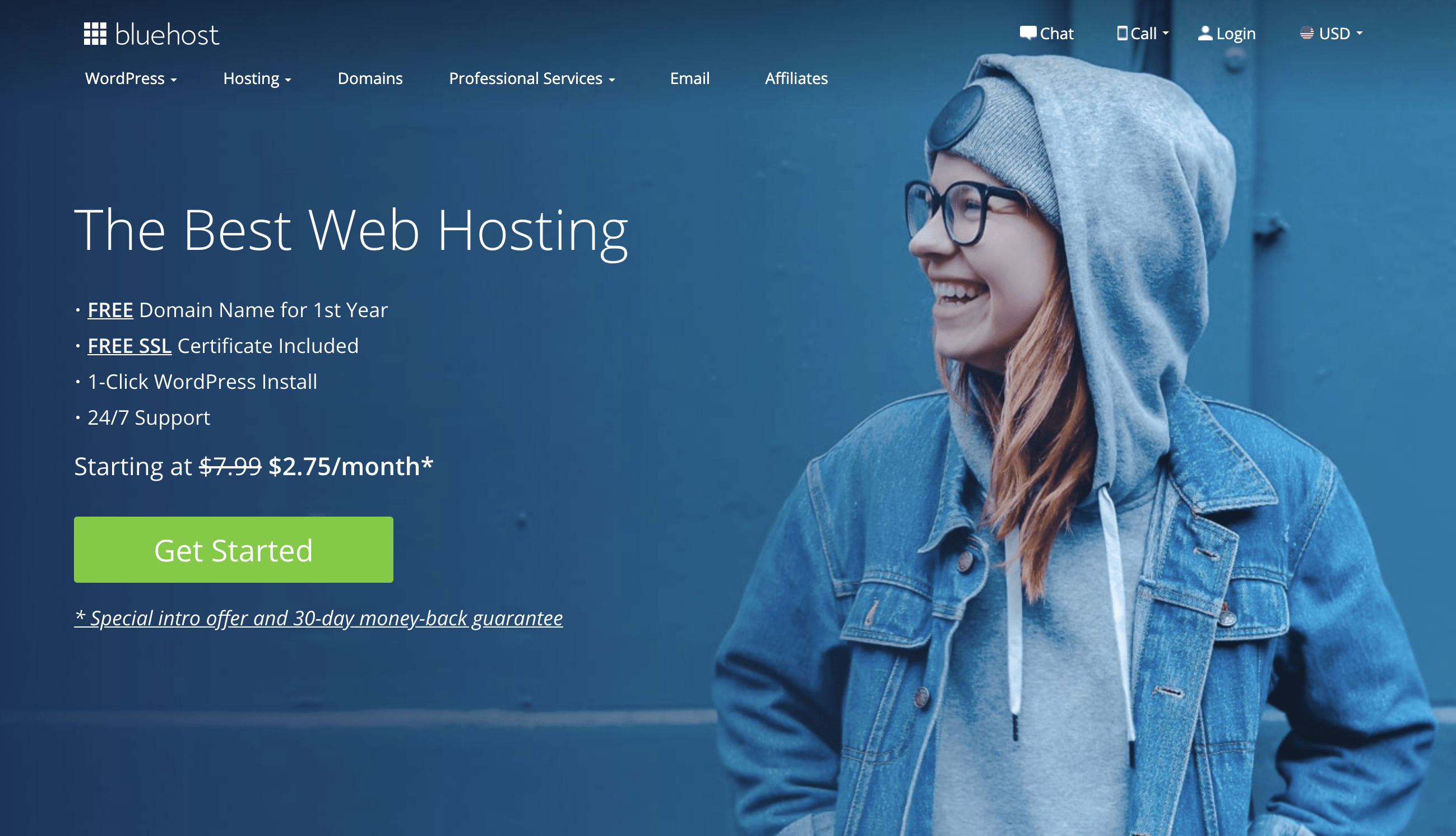 Bluehost is by far one of the most popular, inexpensive, shared hosting options available – for a reason. They have currently hosted over 2 million websites. They are well used (and recommended) by a variety of popular webmasters and bloggers.
The biggest disadvantage in their offer is that the cheapest plan ($2.75/mo) comes with a 36-month commitment. If you decide to use their services for less than 12 months then you'd need to pay $4.95/mo. SSL is included for free. Cheapest "basic" plan comes with 50GB of storage space, 5 email accounts, and unmetered bandwidth. Bluehost renews at $7.99/mo after the initial sign up period.
Bluehost provides –
1-Click WordPress Install
FREE Domain Name for 1st Year
FREE SSL Certificate Included
24/7 Support
99.9% Uptime Guarantee
Unmetered bandwidth
50 GB SSD Storage
Hosting plan starting at 2.75 USD per month (36 Months)
Renewal at $6.95
30 days money back guarantee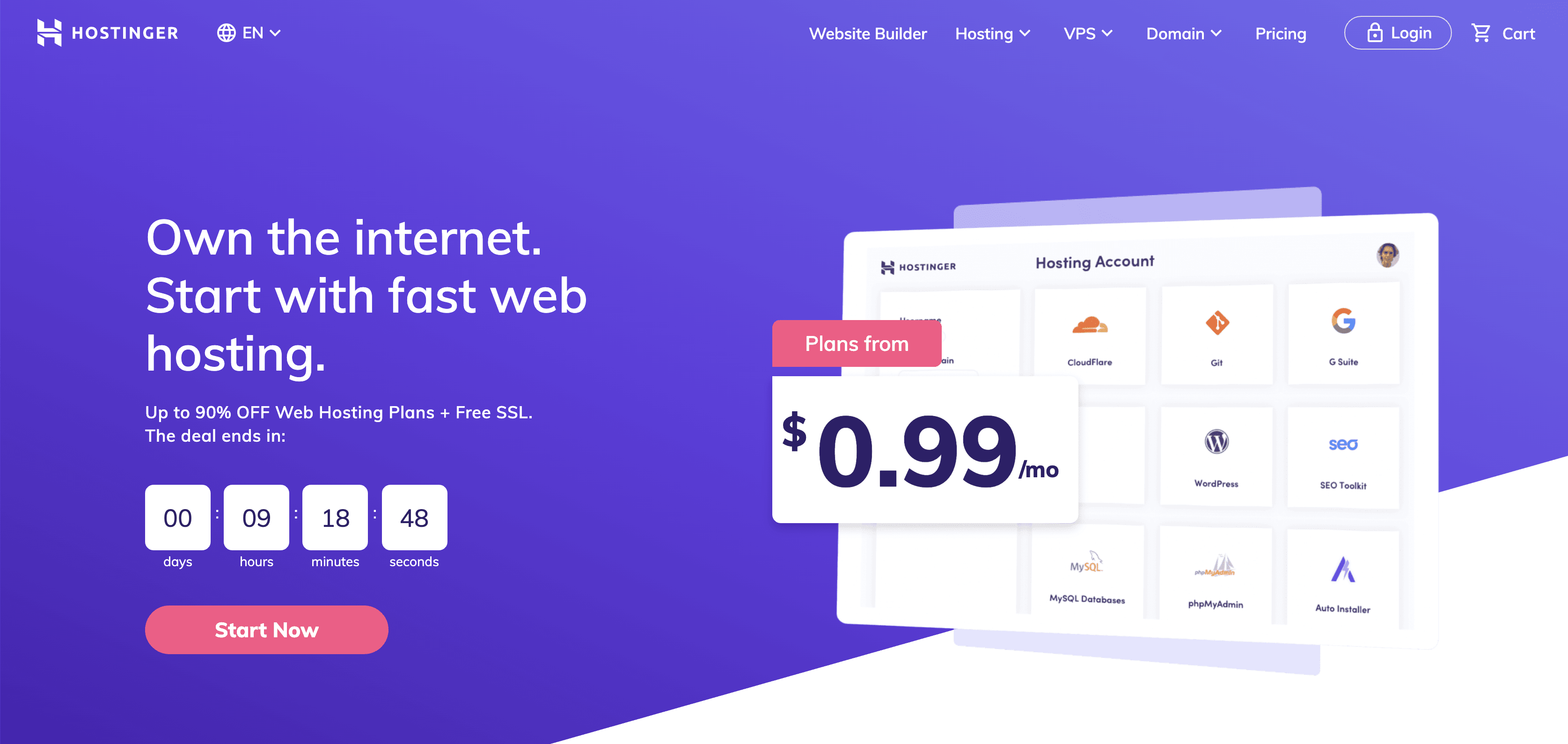 Hostinger is one of the cheapest shared hosting providers on the market today. They started in 2007 as 000webhost.com, a free web hosting service with no advertising. Then, in 2011, the Hostinger web hosting brand was born. By May of 2014, Hostinger had already exceeded a user base of ten million people. By January of 2017, the user base had grown to 29 million people.That's pretty impressive growth in just over a decade. And the company boasts tons of unlimited and free features.
Usually, very affordable hosting providers are either slow, unreliable, or with virtually no customer support. Fortunately, Hostinger is quite the opposite.
Hostinger provides –
24/7/365 Support

99.9% Uptime Guarantee

DNS Management
Access Manager
Limited Bandwidth (100 GB)
1X Allocated Resources
Free SSL Certificate
Hosting plan starting at 0.99 USD per month (48 Months)
Renewal at $2.15
30 days money-back guarantee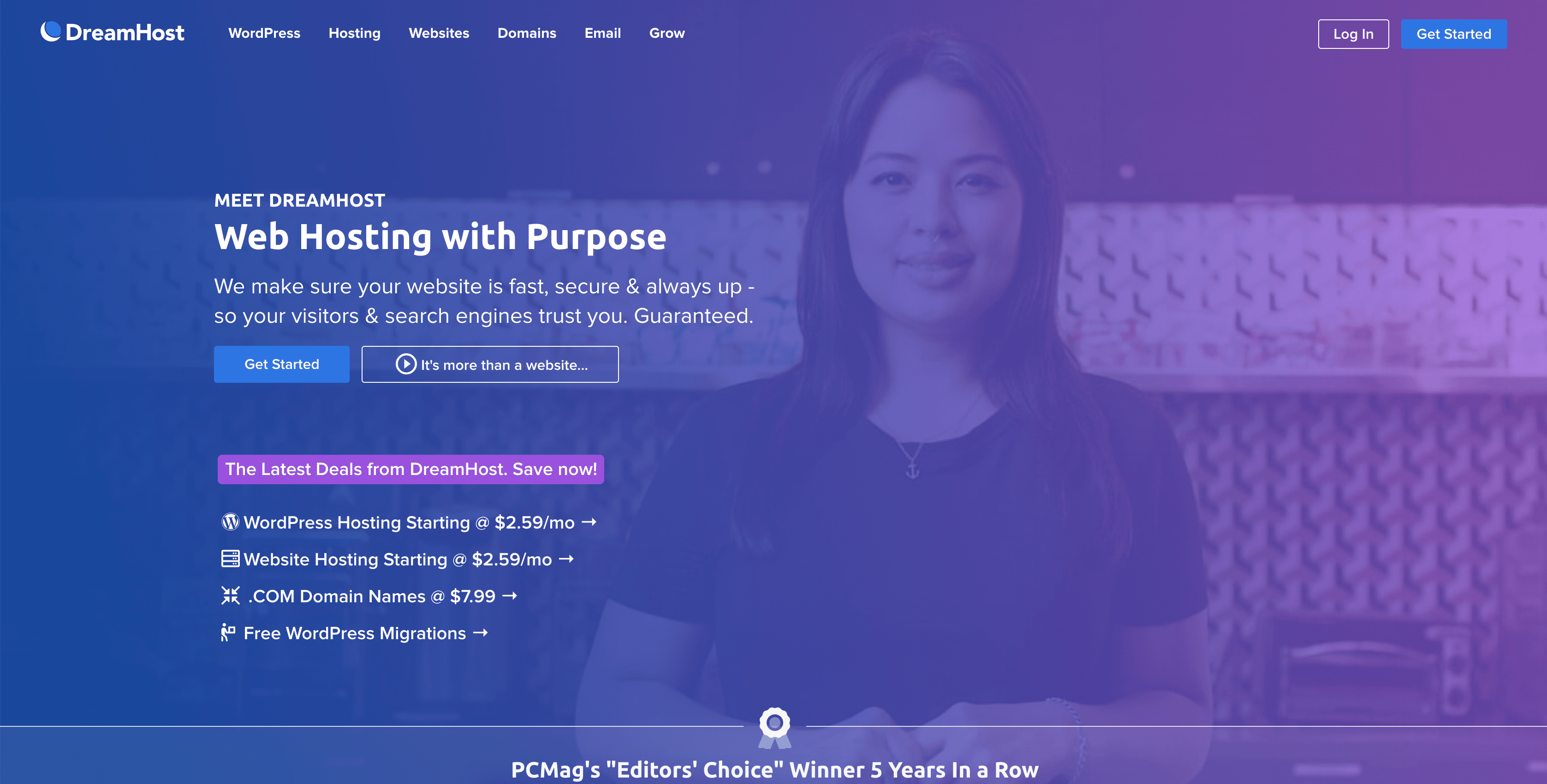 Dreamhost hosts over 1.5 million sites for 400,000+ members and they're one of only four web hosts that WordPress itself endorses, they have good reason to be proud. Their unique relationship with WordPress, thanks to over 750,000 one-click installations, should put Dreamhost on your hosting shortlist if you're starting a small site. Dreamhost is also an OpenStack Foundation Gold Member. Their commitment to Open Source comes in the form of financial backing, coding contributions, and community leadership. Entrepreneurs and small businesses can't afford to be offline for long so it's worth highlighting Dreamhost's unique 100% uptime guarantee. For every hour that your website is offline, they'll credit you a day's hosting service. Since Dreamhost is willing to spend its own money on downed sites, it's a good bet that yours will stay online.
Dreamhost provides –
1 Click Script Install
99.9% Uptime Guarantee
97 days money back guarantee
Free SSL certificate
Unmetered bandwidth
Unmetered Diskspace
Hosting plan starting at 2.59 USD per month (36 Months)
Renewal at $4.95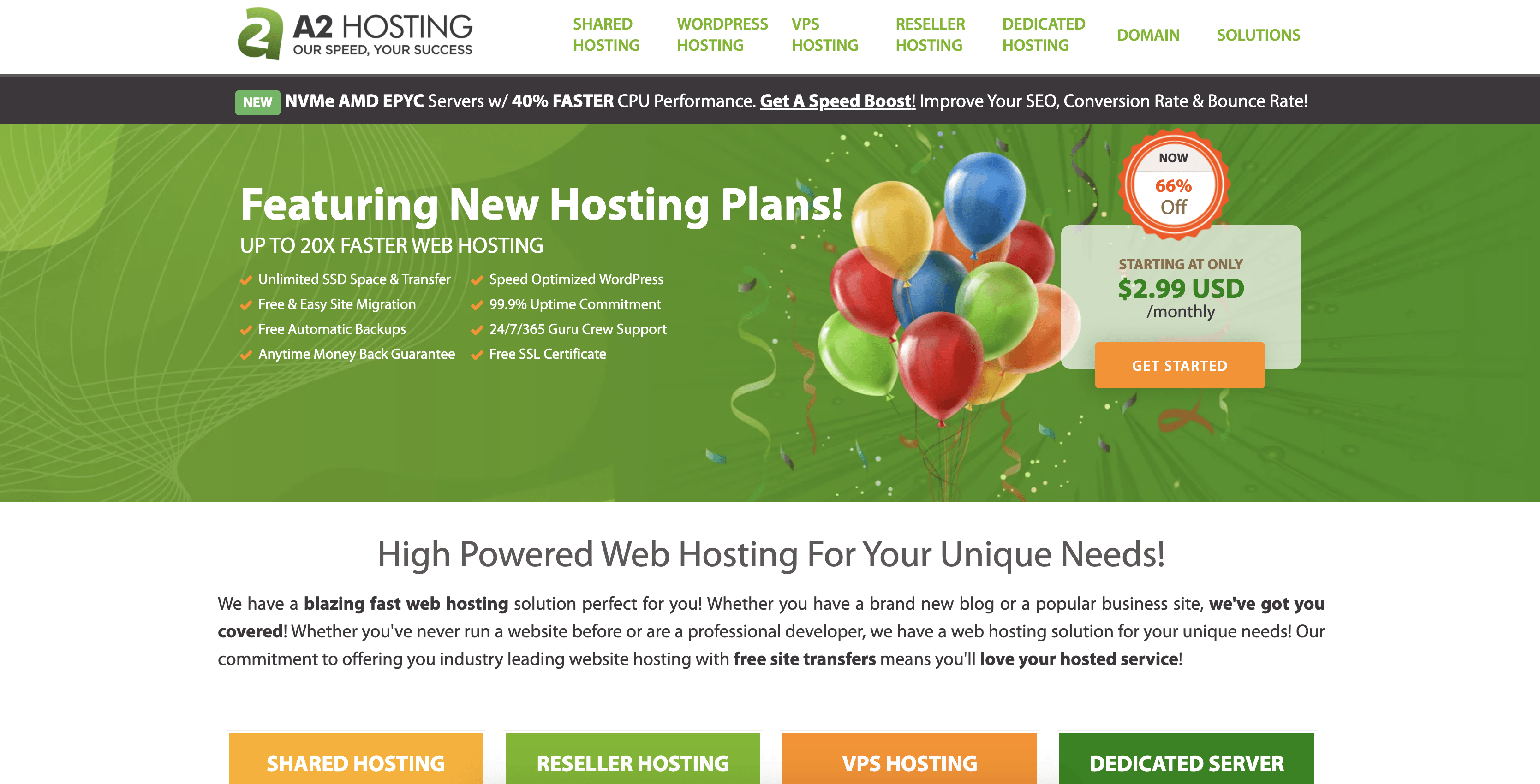 A2 Hosting web hosting company has been around for longer than you may think. It was launched in 2001 as Iniquinet, a web hosting startup. The business was based in Ann Arbor, MI. As the startup picked up a good pace, they changed the company's name to A2 as a tribute to their base location. It has always been supportive of the latest technology, which is a major reason for its ever growing success. For example, A2 became one of the first web hosting providers to support PHP5 in 2004. In 2013, A2 introduced Solid State Drive (SSD) hosting to support its SwiftServer platform. By adopting SSDs for shared hosting as well, A2 managed to raise the speed for all other shared hosting providers.
A2 Hosting provides –
Easy Control Panel
1 Click Script Install
99.9% Uptime Guarantee
Any time money back guarantee
Unmetered bandwidth
Unmetered Diskspace
Hosting plan starting at 2.99 per month USD (12 Months)
Renewal at $8.99
Hope these cheap website hosting services are helpful to get started with your web hosting.
If you know about any other better cheap hosting provider then please mention it in the comments section.